Administrator
Staff member
0.00 star(s)
Rating: 0.00/5 0 Votes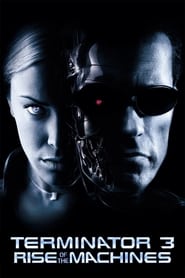 Title:
Terminator 3: Rise of the Machines
Tagline: The Machines Will Rise.
Genre: Action, Thriller, Science Fiction
Director: Jonathan Mostow
Cast: Arnold Schwarzenegger, Nick Stahl, Claire Danes, Kristanna Loken, Earl Boen, David Andrews, Carolyn Hennesy, Jay Acovone, Mark Famiglietti, Moira Sinise, Chopper Bernet, Christopher Lawford, M.C. Gainey, Susan Merson, Elizabeth Morehead, Billy D. Lucas, Brian Sites, Alana Curry, Larry McCormick, Robert Alonzo, Michael Papajohn, Timothy Dowling, Jon Foster, Mark Hicks, Kim Robillard, Matt Gerald, William O'Leary, Rick Zieff, Rebecca Tilney, Chris Hardwick, Helen Eigenberg, Kiki Gorton, Walter von Huene, Jerry Katell, George A. Sack Jr., Eric Ritter
Release: 2003-07-02
Runtime: 109
Plot:
It's been 10 years since John Connor saved Earth from Judgment Day, and he's now living under the radar, steering clear of using anything Skynet can trace. That is, until he encounters T-X, a robotic assassin ordered to finish what T-1000 started. Good thing Connor's former nemesis, the Terminator, is back to aid the now-adult Connor … just like he promised.