Administrator
Staff member
0.00 star(s)
Rating: 0.00/5 0 Votes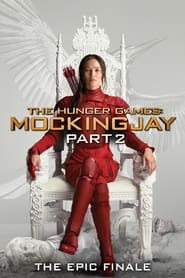 Title:
The Hunger Games: Mockingjay - Part 2
Tagline: The fire will burn forever.
Genre: Action, Adventure, Science Fiction
Director: Francis Lawrence
Cast: Jennifer Lawrence, Josh Hutcherson, Liam Hemsworth, Woody Harrelson, Elizabeth Banks, Julianne Moore, Philip Seymour Hoffman, Jeffrey Wright, Stanley Tucci, Donald Sutherland, Willow Shields, Sam Claflin, Jena Malone, Mahershala Ali, Natalie Dormer, Wes Chatham, Michelle Forbes, Elden Henson, Patina Miller, Evan Ross, Paula Malcomson, Eugenie Bondurant, Sarita Choudhury, Stef Dawson, Meta Golding, Omid Abtahi, Joe Chrest, Misty Ormiston, Kim Ormiston, Gwendoline Christie, Robert Knepper, Mark Jeffrey Miller, April Grace, David Hallyday, Linds Edwards, Thomas Blake Jr., Cameron MacConomy, Desmond Phillips, Elle Graham, Lacy Dmitriew, Kate Rachesky, Phillip Troy Linger, Bear Lawrence, Theodore Lawrence, Brandon Cyrus, Toby Jones, Gary Sievers, Emma Elle Roberts, Alexander Yassin, Jasmine Ahnie, Sue-Lynn Ansari, Scott Hunter, Sam Hargrave, R. A. Rondell
Release: 2015-11-18
Runtime: 137
Plot:
With the nation of Panem in a full scale war, Katniss confronts President Snow in the final showdown. Teamed with a group of her closest friends – including Gale, Finnick, and Peeta – Katniss goes off on a mission with the unit from District 13 as they risk their lives to stage an assassination attempt on President Snow who has become increasingly obsessed with destroying her. The mortal traps, enemies, and moral choices that await Katniss will challenge her more than any arena she faced in The Hunger Games.